2022 Dr. Walter Munk Scholarship
2022 Dr. Walter Munk Scholarship – The Search for a Future Scientist who also Rips!
Well folks, it's literally been a pandemic since our last post but the PB Surf Shop blog is back!  The timing has worked out perfectly too; because we wanted to make sure our first post (in a while) would be meaningful and something we – as a surf shop and surf school – feel most represents our outlook on the local surfing community. That is why PB Surf Shop is proud to announce the 2022 Dr. Walter Munk Scholarship.  
Each year PB Surf Shop partners up with the Groundswell Society and the PB Surf Club to present an ocean loving high school senior (who surfs… of course) with a scholarship honoring Dr. Walter Munk, who contributed so much in the field of oceanography.  If this sounds like you, or someone you know, check out the deets on the attached link; which includes more specific requirements and guidelines on how to score this super-meaningful scholarship! 
The scholarship honors Walter Munk's enormous contribution to the surf community and… you know… THE WORLD! His findings were monumental in the field of oceanography. When Munk led an expedition observing the swell across the Pacific in the early 1960s, he discovered the true origin of ocean swells and the distance they traveled to finally crash upon our beautiful beaches. So, from a surfers standpoint, we owe the luxury of ocean forecasting to Dr. Munk; one of the many reasons he is held in such high regard by the Groundswell Society and surfing community as a whole.
It's a privilege to work with such rad groups like the Groundswell Society and the PB Surf Club to offer the scholarship. Both of these organizations share a similar stance on surfing with us here at PBSS. They put emphasis on the values and education that go along with surfing and strive to contribute to the San Diego surf community. Most importantly they love "sharing the stoke of surfing" which is the motto of the Groundswell Society, who were recently nominated for the award of "coolest name ever" by none other than bossman Randy – a nomination seconded by myself.    
We at the shop take pride in being part of this for so many reasons; some seem obvious like – we're a surf school, so we value education.  Totally correct, but we tend to look at our surfer education as more than setting a student up with the physical skills to succeed in surfing. We strive to enlighten every grom that passes through our surf camp on the historical and environmental values that are just as important in the surfing community; we like to think of it as our way of investing in the future of surfing and the protection of our oceans. This is why we choose to support this scholarship; with the hope one day a recipient can have as much of an impact on the surfing community as Dr. Munk has.
This entry was written by PB Surf Shop's own Chris Kiely. Check back soon for more posts by Chris and other folks!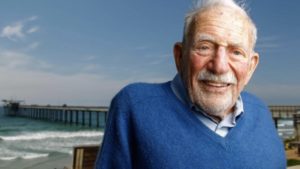 Walter Munk had an enormous impact on both the scientific and San Diego communities
Randy Strunk of PB Surf Shop and Ron Greene of the PB Surf Club proudly presenting their contributions