SURF
San Diego's Best Surf School
PACIFIC BEACH SURF SCHOOL
Learn to surf with San Diego Surf Lessons from Pacific Beach's most experienced surf school. We are proud to be San Diego's Most Trusted Surf School offering a safe, fun, and memorable experience for all. Pacific Beach Surf School has been in business for more than 60 years. As a result, each year we teach more than 3,500 men, women, boys, and girls, how to surf. The surf camp is actually a great way to make the experience of learning to surf safe, and fun. Our program is dedicated to safety and structured to provide a fun and enriching setting for youth. Our program builds the self-confidence necessary to develop into true water-women and men.
We need a reliable vendor that has a strong attention to detail and customer service. PB Surf Shop … service…has been unparalleled over the past decade.
We have had a longstanding business relationship with PB Surf Shop over the last ten years…and plan to do so for many years to come!
He has supported many of our charity events over the years…We hold Randy in high regard and recommend him to continue his work with the Pacific Beach Surf School
I have had the pleasure of working with Randy on a new website and SEO since June 2018. The quality of service provided by PB Surf Surf Shop is second to none.
…impressed and inspired by (his) personal commitment and support of Surfrider local volunteers…His leadership, expertise and management …have become a template for …successful and community-relevant surf retail shops.
His acumen is broad, with an understanding of the subtle balance between business needs and civic responsibility.
Randy is a passionate, dedicated professional with a high level of integrity. It was a pleasure and an honor to work with him over the years.
…have known Randy Strunk for over 20 years …We do many charity events with the Windansea Surf Club and his PB Surf Shop has always donated.
I experienced an individual who always is helping our community…had dedicated years to teach others about the sport…imbues his students with the importance of safety and procedures.
You guys taught me a lot of things…my trainer was Chris and was a very kind, loving coach…I can't wait to go back to get more skills.
Randy used his business to stage community events to benefit Surfrider and other non-profit organizations. He is widely known in the world of surfing for his honesty, generosity, and genuine character.
…working with PB Surf School for well over 10 years…Randy and his staff are always professional and patient …our students always comment that their time at PB Surf is one of the highlights of their summer
(Randy's) dedication to the young novices who are in many cases receiving their first introduction into the surf and ocean culture could not be better.
Randy Strunk is a pillar of his community, both in regard to business and civic responsibility. His surfing school is our top recommendation for beginner and novice athletes (locals and tourists alike). In our opinion, he is the ideal person to lead the City of San Diego Surf School Programs.
Randy's shop has been an integral part of our property for more than 20 years and is well known for their top-notch surf school. We look forward to many more years of his continued presence and business her at Oceanus.
In 2018 the hotel was looking for a first class surf school that can continue the service our customers demand and expect. Pacific Beach Surf School has more than met our expectations. The guest feedback from both travelers and corporate team building events have been a five star rating.
"…is a well-respected leader in the ocean community…has a strong commitment to stewardship and making that an important part of his surf lesson and surf camp experience ."
"…a pillar in the surf community…(his) soft touch, easy going personality, retail knowledge make him one of, if not the, best candidates to possess a permit to provide surf lessons."
"Randy used his business to stage community events to benefit Surfrider and other non-profit organizations. He is widely known in the world of surfing for his honesty, generosity, and genuine character."
"Randy loves teaching others about surfing and is as happy as they are when they catch their first wave. He ensures that their experiences are not only memorable, but also safe. I strongly recommend Randy be given the opportunity to continue as part of our city's surf school programs."
"Randy has a long history in San Diego and is known for his integrity, honesty, work ethic, and community engagement. Our Club fully supports his application for a permit. "
San Diego Surf Lessons for all Abilities
new to the water?

Learn how to surf in San Diego. Pacific Beach Surf School provides premium private surf lessons with qualified instructors. Enjoy the personal professional attention with just you or your private group in the surfing lesson.
Intermediate surfer

If you are an intermediate surfer, you are probably looking for ways to improve your surfing. Challenge yourself and improve your skills to move from an intermediate to advanced surfer.
advanced skills

We can help perfect mechanics, fix bad habits, tune-up paddling and takeoffs while teaching efficient movement. We assist you to hone your surfer mentality and refining your wave judgment and ability to read the ocean
60
Over 60 years in the game
The old logo still conjures up images and feelings of "Good Vibrations" and dreams of riding waves! We have a longtime association with iconic surfboard maker and former owner Gordon and Smith Surfboards. Our roots run deep in the San Diego surf scene.
Our San Diego Surf Lessons Instructors are...
...Fun
Even though you're growing up, you should never stop having fun
...Talented
talents are meant to be shared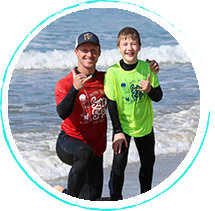 ....friendly
we love putting smiles on your face
...enthusiastic
Enthusiasm spells the difference between mediocrity and accomplishment
Check out what people are saying about us.....